Page content
The History of CF Industries
1946

The Central Farmers Fertilizer Company was founded to supply fertilizer for its members.

1954

Company purchased interest in a nitrogen manufacturing complex. The investment marked our first step into manufacturing, rather than just purchasing, fertilizer.

1966

The Donaldsonville Nitrogen Complex, today the world's largest and most flexible ammonia production facility, first produced ammonia in December 1966. Construction of the plant was completed in 1969.

1970

Name changed from Central Farmers to CF Industries.

1998

Expansion of Donaldsonville Nitrogen Complex complete. This project would include the last world-scale urea plant completed in North America for 17 years.

2005

Common stock of CF Industries Holdings, Inc. (NYSE: CF) began trading on the New York Stock Exchange on August 11.

2015

For the first time, we expanded fully into the United Kingdom market, where we operate as CF Fertilisers UK Limited.

2016

CF partners with The Nature Conservancy on the 4R Plus program, a science-based approach to providing farmers with the knowledge and tools to minimize nutrient loss through emissions and runoff into adjacent water bodies while improving crop yields and soil health.

2020

CF announces our commitment to the clean energy economy, laying out significant steps to support a global hydrogen and clean fuel economy and establishing comprehensive environmental, social and governance (ESG) goals.
We're building a company for the future, where sustainability comes first
Do work that makes you proud

OUR PRODUCTS
From clean energy to emissions abatement and products that feed the crops that feed the world, we make a difference every day. Thanks to nine reliable and efficient production complexes in Canada, the United Kingdom and the United States, along with industry-leading distribution and logistics capabilities, our customers know they'll receive the exact products they need precisely when they need them, while respecting the environment.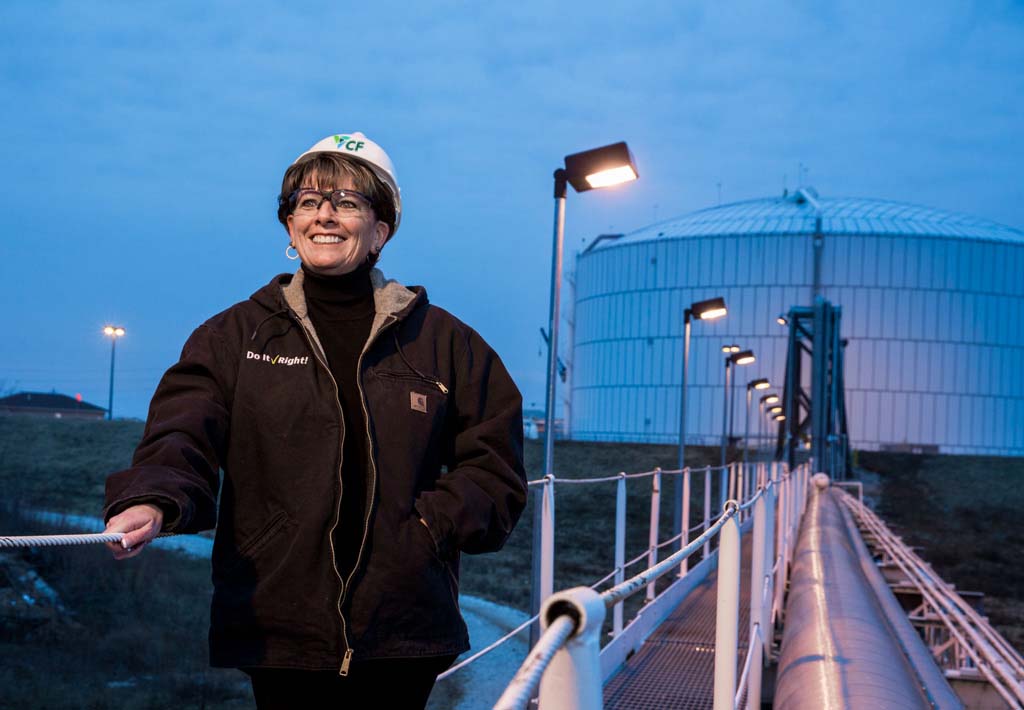 Build a secure career that you can rely on
While working with a globally-traded commodity, we're committed to providing as much stability as possible to our people and our shareholders, and we do that by executing our strategy across our many structural and operational advantages. Our facilities are some of the world's most energy-efficient plants and the demand for our product grows year after year, driven by population growth, improved diets and a need for clean fuel.